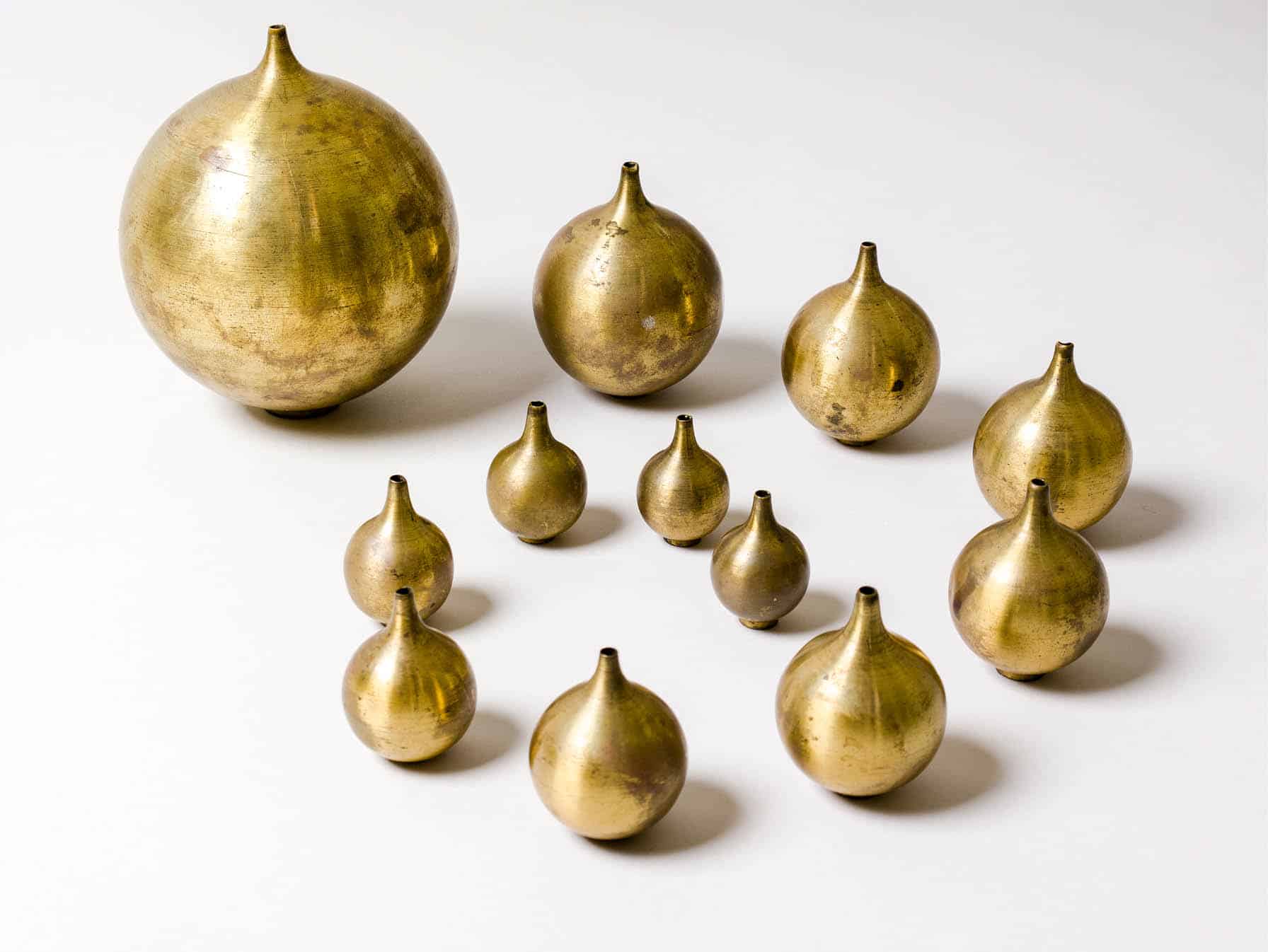 Introduction and Working Principle
Originating from a setup created by Hermann von Helmholtz in the 1850s for determining sound pitches, this resonator consists of two main parts: a cavity and a neck, structured together as shown in Figure 1. When excited by an acoustical wave, the system will resonate at a frequency 𝑓₀, as given by the formula below, thereby creating an aero acoustic source.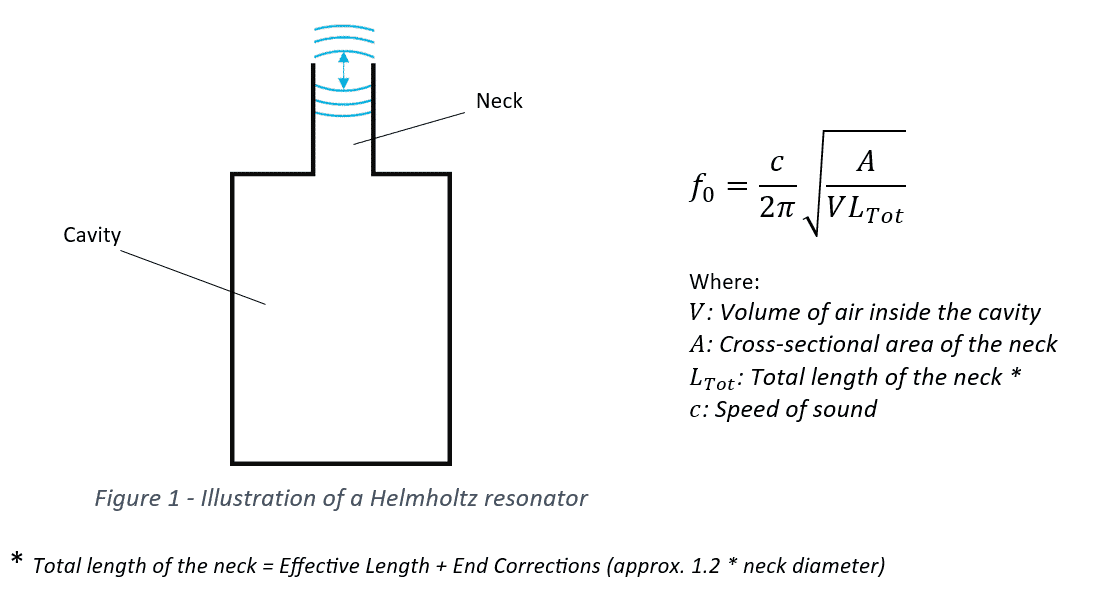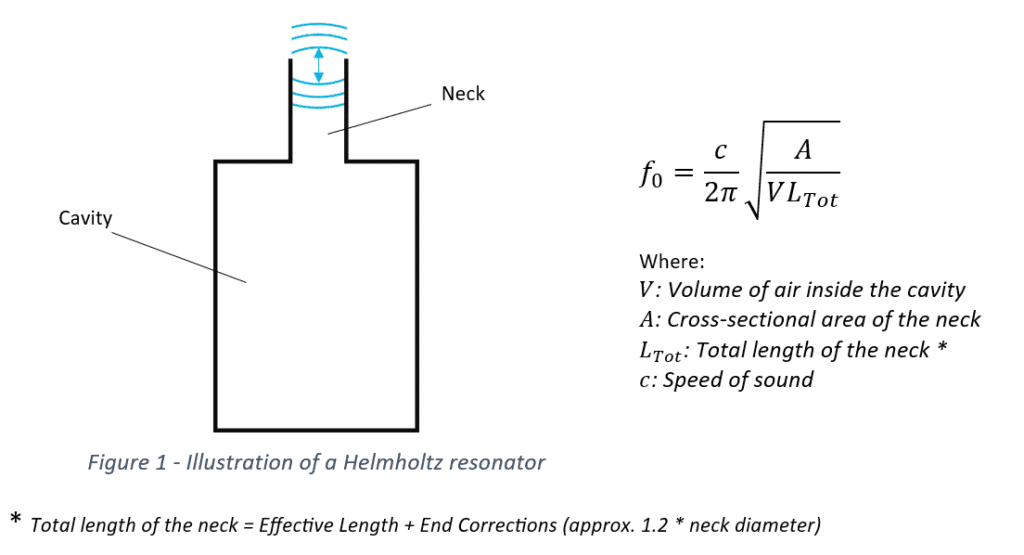 Two popular application examples in speaker systems
Bass-Reflex Enclosure
A Bass-Reflex enclosure (illustrated in Figure 2) typically utilizes Helmholtz resonance to extend the low-frequency response of a speaker system. When examining the electrical input impedance of such a system (Figure 3), it typically features two peaks and a minimum impedance in between.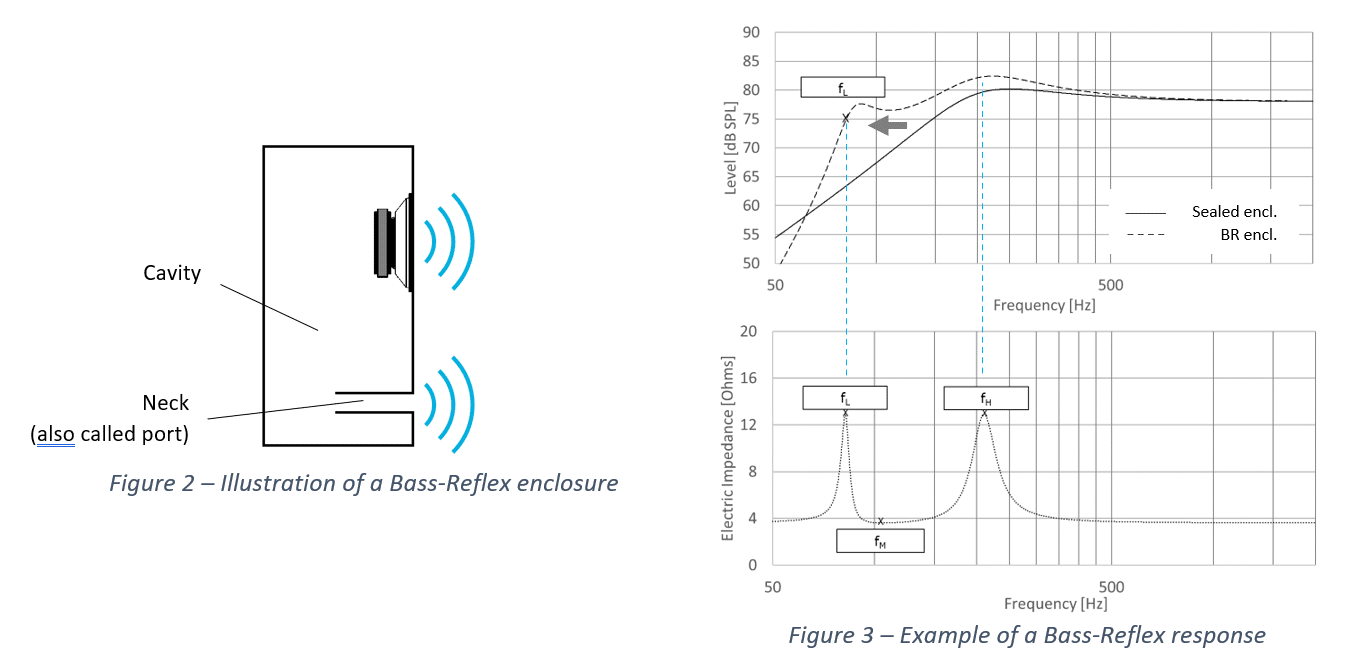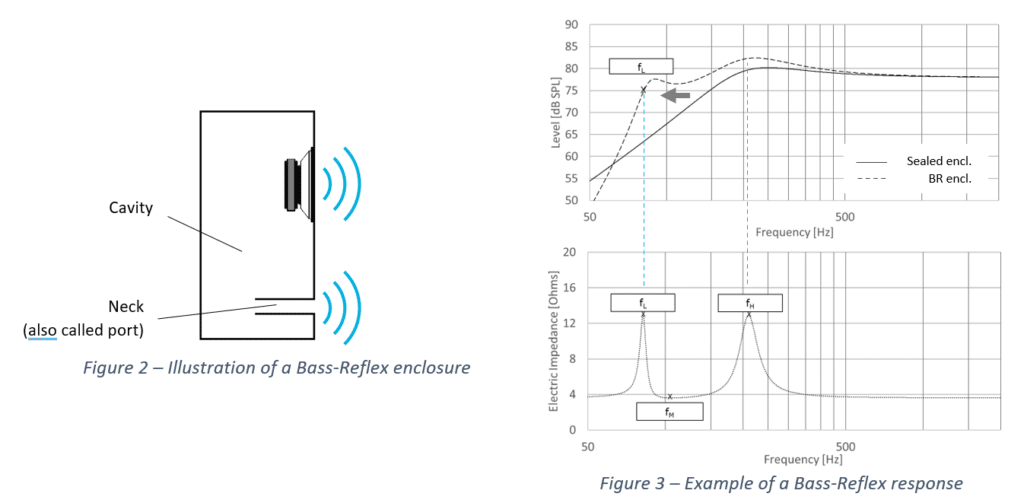 From the Figure 3:
fH is often understood as the resonance of the sealed equivalent enclosure (when the neck volume is removed),
fM is the Helmholtz resonance (assuming a lossless system),
fL is the low-frequency roll-off (LFRO) for the extension, also defined over the response as the -3 dB point from the nominal sound pressure level.
Although fL is the frequency to focus on for the extension design, the calculation approach generally starts by determining fM first. The three frequencies are intimately linked either by a specific formula or through a complete Lumped Element Model.
Sound port designs
Helmholtz resonance can also be used for natural amplification and/or filtering of the response if designed into the sound port in front of a loudspeaker. However, it is important to avoid spectral deformation caused by it unless intentionally designed. In this configuration, perforations from a grid covering a loudspeaker installation in a device (Figure 4) will act as multiple small necks at the end of the front cavity, thereby causing a resonance that is more or less pronounced depending on the rate of perforation.
When comparing the diaphragm area to the summed area of these perforations:
More than 50% of perforations will generally lead to a widely open port, not causing any marked resonance,
Less than 50% will gradually cause a marked resonance, as illustrated in Figure 5.


Looking to optimize the acoustics of your speaker system with Helmholtz resonators? Contact SELTECH for a fully customized, high-quality solution.
Review by:
– Frédéric Fallais, Acoustic Application Engineer
– Arthur D., Acoustic Technician