Seltech microphone provider
Whatever the microphone technology you use (MEMS, electret condenser or just electret), we can integrate them on cost effective customizable modules fully tested and validated.
Our level of customisation is high and adapted to each customer's specific requirements.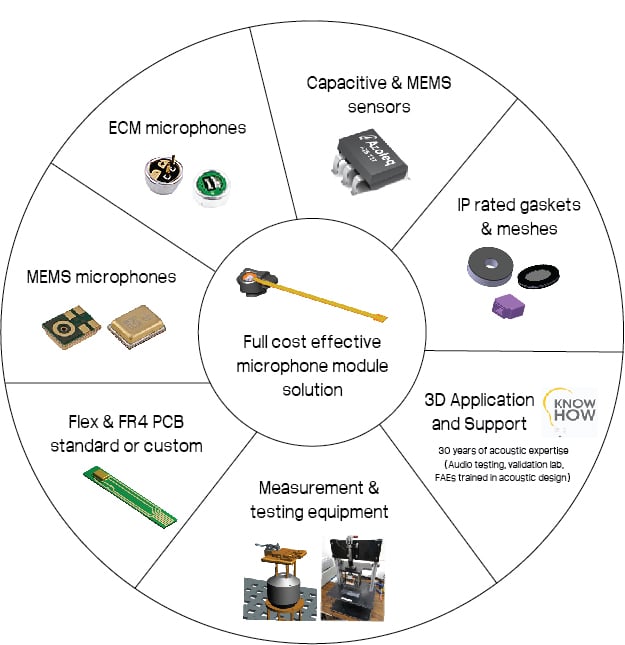 Depending on your requirements, we can do complete or part of design works for customers.
Bring us your custom request, and we will make it "live" through our organization.
Seltech provides a full range of microphones

Through 30 years of experience in the acoustic field, SELTECH has built a complete portfolio of ECM and MEMS microphones. This range of form factor and performance options can meet the audio recording requirements of nearly any application.
With reliable testing of our products, continuous inspections of our shipments, and frequent internal audits of our manufacturing sites, Seltech offers high value services to its customers.
Our modeling and measurement capabilities are strong enough to support designs from scratch, by reviewing 3D models, checking the mechanical integration, and predicting the acoustic behavior.
Seltech is the global provider of Knowles SiSonic™ MEMS microphones, which are designed with leading MEMS technology for stable acoustic performance under extreme conditions such as high temperature, shock and vibration.
Knowles SiSonic™ MEMS microphones have these features:
Omnidirectional
Surface Mount Devices (SMD)
Operating and storage temperature range from -40 °C to +100 °C
Analog or Digital output
High RF immunity levels
Tight sensitivity tolerance
Mic matching for arrays
Knowles SiSonic™ MEMS microphones are available with either Top or Bottom sound port:
Knowles SiSonic™ MEMS microphones have integrated RF protection to help prevent RF noise from getting into the acoustic signal. Maximum RF protection is obtained with metal-can packaging and RF filtering built into the CMOS IC.
The newest generation of Knowles Digital SiSonic™ MEMS Microphones offers "always-on" voice trigger solutions at ultra-low power. Using the VoiceIQ™ adaptive engine, they allow the entire audio chain to remain in sleep mode, commanding it to wake-up only when acoustic activity or keywords are detected.
Knowles SiSonic™ MEMS microphones are available with different package sizes:

Knowles' state-of-art MEMS microphones are used in various applications such as cell phones, digital cameras, portable music players, smart phones, laptop computers, IoT devices and sensors, digital and other portable electronic devices.
They are also used in earphones and headphones for beamforming and active noise cancelling (feed forward, feedback and hybrid). MEMS mics are also used by companies creating innovative technology at the intersection of hearables and professional IEMs (In-Ear Monitors).
An evaluation kit called Muskie KAS-33100-0004 is available to easily evaluate the Knowles MEMS microphones.
Seltech offers MEMS microphone gaskets (as well as dust & waterproof meshes) to achieve optimal acoustic performance of MEMS microphones.
Complementary to Knowles MEMS microphones, Seltech offers a full range of ECM microphones.
With billions of ECMs produced every year, they are a very common and popular component, found in just about any product that requires a mic (phones, conference call systems, industrial applications, medical devices, computers).
Seltech offers diverse ECM configurations, allowing engineers to easily find the right solution. They can be as small as 4mm diameter and 1.3mm height. They are available in omnidirectional or unidirectional versions. Some are designed for active noise cancelling functions. Sensitivities range from -44 up to -30 dB, and signal-to-noise ratios (SNR) up to 78dB.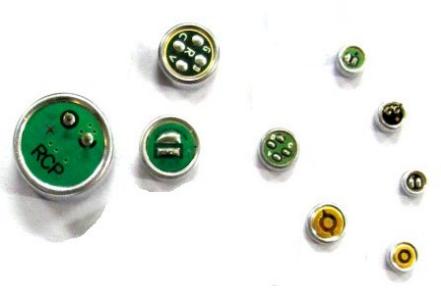 They are easy to integrate and can be soldered manually, as they are available with solder pad version, pins and even customized wires and connectors. More information can be found about the customization on our dedicated page SELTECH AND ITS ACOUSTIC DESIGN SERVICE
For larger and more stable manufacturing, Seltech offers a reliable SMD ECM that is resistant to high temperatures and is compatible with SMT processes.
Several ECMs versions are also available with an Ingress Protection rating of IP67, optimal for exterior applications and wearables.
Our portfolio can be found on our dedicated page ECM Microphone product list
Need information ?
Contact Us !