Microphone arrays of Seltech
Seltech provides a wide range of customized microphone arrays
Seltech benefits from a strong partnership with Knowles, the world leader in MEMS microphone production, to offer high-end custom microphone modules. These microphone arrays are designed according to customers' needs and can be in the form of a PCB or FPC.
The advantages of a microphone module are ease of integration into the finished product as well as optimization of acoustic performance. Microphone modules are an ideal solution for all beamforming and active noise cancelling applications.
Our team of engineers can guide the microphone array design in order to determine optimal parameters (dimensions, number of microphones, directivity, etc.) to achieve the best performance. Utilizing powerful 3D software, analytical tools, and a fully equipped lab, Seltech can check the overall mechanical integration of acoustic components. Seltech will also assess the entire acoustic input path to ensure that the microphone module functions properly.

Array with 4 MEMS microphones
Seltech is able to make simulations and advanced directivity measurements in order to assess the efficiency of beamforming. Our team can also help you predict and control the resonances in the acoustic path.
Seltech masters all stages of product creation, from design to production, with particular attention paid to quality and performance. Thanks to our expertise in acoustics, Seltech can help you determine the optimal number of microphones and design the proper distance between the microphones in order to have an efficient beamforming module. Our microphone modules generally include 1 to 5 microphones. By predicting the delay to steer the beam, Seltech is also able to improve the acoustic performance of the microphone array.
Upon receiving a design request, Seltech provides a mechanical design (2D and 3D) and designs production tools and test jigs. Seltech will handle the sourcing of all the components necessary for the microphone module (resistors, capacitors, sensors, connectors, buttons, etc.). Depending on the application, we are able to integrate many different types of components onto the module. All of our MEMS modules are supplied in custom packaging and conform to ESD standards.
Seltech has all the necessary equipment to guarantee the quality of the microphone modules, with each new product being tested in a custom jig inside our anechoic chamber.
In order to implement the proper level of ingress protection in front of the microphone, Seltech also offers rubber gaskets/boots and acoustic meshes that can be integrated in the assembly process. The mesh will protect the microphone from dust and water, with an IP rating appropriate for the application.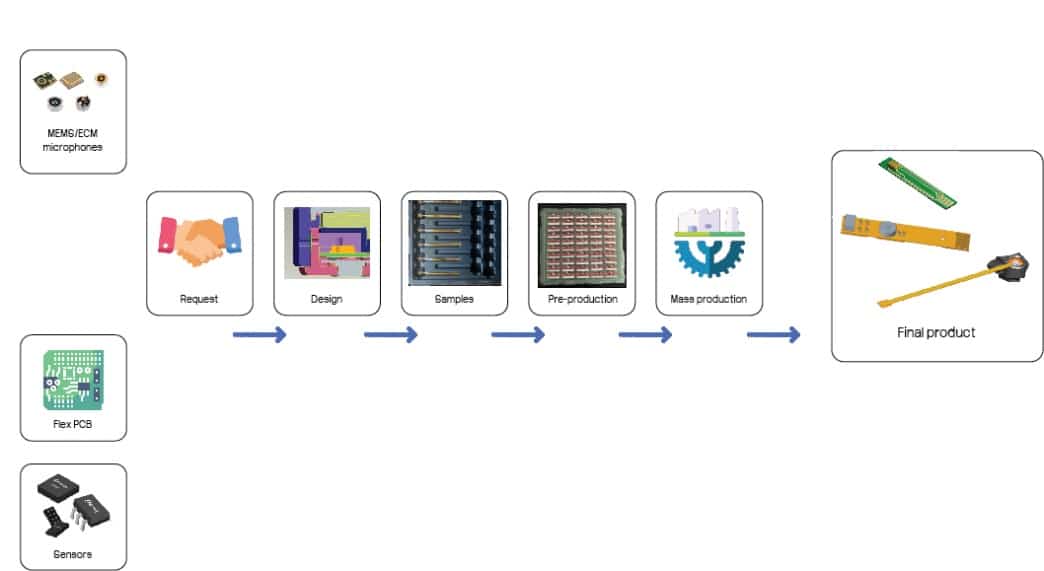 Need information ?
Contact Us !